To be able to make the map creation process as fast and smooth for all parties, there are a few requirements we need.
CAD-files
First and foremost we need a cad-file of your office floor. The file should be up to date and cleaned up, so that it only contains the floorplan that should be on that floor. There shouldn't be any furniture's except for cabinets and other things like room dividers that affect the navigation through the office floor. If you have several floors, you need to provide one DWG-file per floor.
The file must not contain parts of the office that shouldn't be displayed.
The file must not contain text (for example legends).
The file must not contain decorations (for example frames).
The file must not contain furniture (for example tables and chairs). Kitchen and toilet interiors are fine.
The file must be in AutoCad 2010 DWG format.
Here are some examples.
All the text and decorations in this cad-file needs to be removed.
Here is a part of the building that shouldn't be in the map, and it needs to be removed:
Like this: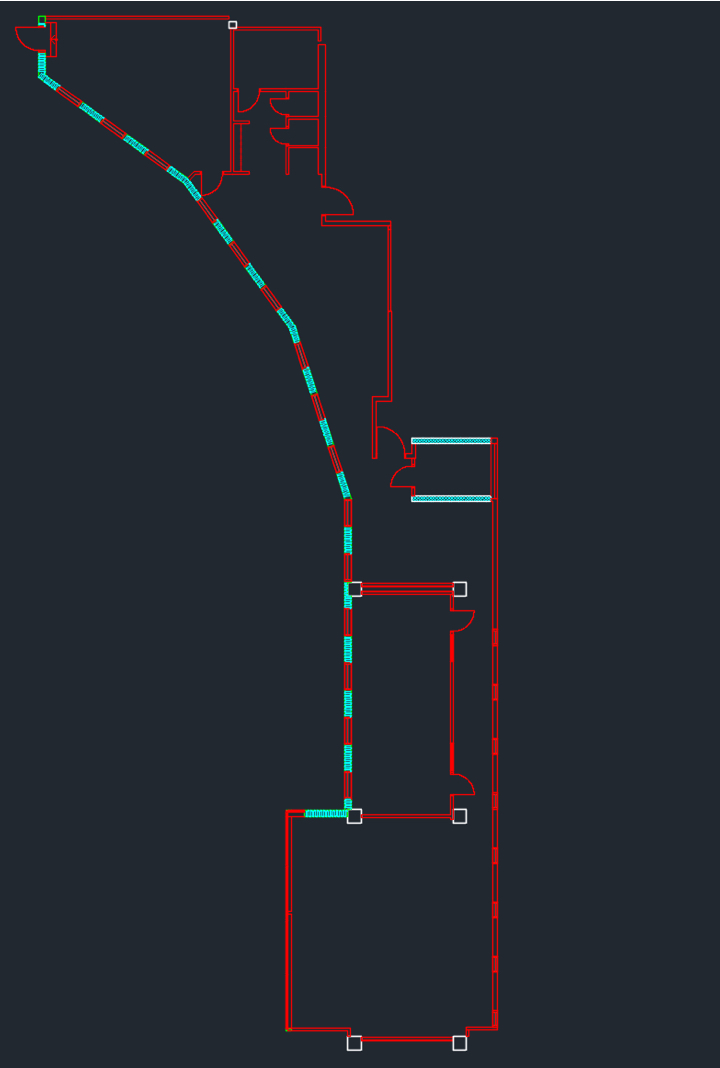 PDF with clarification of the office space
You need to provide a PDF with a map of the office that marks all rooms that you will be using now (or maybe in the future) as bookable conference rooms.
You need to show where all points of interest you want are placed.
You need to show where the Meetio View device is going to be positioned.
You need to specify how you want the map rotated. If you have several floors they need to be rotated the same way since you will be toggling the different floors on the view device. If there is no note about the rotation, we will rotate the map according to how we see fit.
As an example on how you could mark the map in a PDF:
Here is an example of what a finished Meetio map can look like.
Points of interest
These are the points of interest (POI) icons we are currently supporting.
| | | | | | |
| --- | --- | --- | --- | --- | --- |
| | Current location | | Charging Station | | Stairs |
| | Toilet | | Telephone Room | | Elevator |
| | Accessible Toilet | | Printer/Copy machine | | Quiet Zone |
| | Shower Room | | Guest Workstation | | Library |
| | Water Station | | Resting Room | | Coat Room |
| | Coffee Machine | | Office Supplies | | Lounge |
| | Kitchen | | Reception | | IT Support |
| | Unbookable Room | | | | |